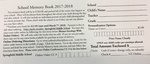 Yearbook ORDER Form
Springfield Middle School Yearbooks are on Sale.
Yearbooks are $22
Personalization Option of Name on Cover $2
Total Cost of Yearbook is $24 if you want your name on it.
Order by March 7th, 2018
Forms were sent home by your homeroom teacher.
See Mrs. S. Edwards or go to school website if you need another copy
Cash or Check to Springfield Middle School.
Information for online order found on order form.